For a lot of gamers who were entering the then newly common world of 3D console gaming, if you weren't an N64 gamer, you were probably a PSX (Playstation 1) gamer. In this guide, we'll show you the basics how you can play Playstation 1 games on your computer using the emulator ePSXe.
Unlike a lot of other consoles from this era of gaming and before, PSX emulation involves using CD images instead of ROM images. This is simply because Playstation 1 games came on CDs instead of the traditional game cartridge. The unfortunate part about emulation the Playstation 1 is the fact that the emulation process is simply a case of "some assembly required" with a complexity comparable to 16 bit PC/DOS emulation. In this first part of our guide, we'll show you how the basics of PSX emulation and build up to more complex scenario's in subsequent guides.
The first thing we need is the emulator. This can be found on the ePSXe official download page.
The next thing you need to do is find a convenient place on your hard drive where you can find your PSX games. I recommend creating a folder for all of your PSX needs in that location and opening up that new folder. Next, create a folder for the ePSXe emulator. In addition to this, create a folder for all of your CD images next to the emulator folder. Put all of your CD images in that folder.
Next, open up your emulator folder. Extract all of the files from the ZIP archive you downloaded into this folder. This emulator does not require installation, but it does require some preliminary configuration when you first open it up. Before we open our emulator, it is recommended that you track down the Playstation 1 bios files. These files do not come with the emulator nor can we discuss how to obtain these files. Still, these files are not hard to find and, ideally, you want to find a complete set bundled together. When you have found these BIOS files, put them in the bios directory located in your emulators directory.
When done, the next thing we need to find is a GPU plugin. The most recommended GPU plug-in I've seen is Pete's GPU plugin. This can be located here. Download the GPU plug-in most suitable for your operating system. When you finish downloading, extract the contents of the archive into the plugins directory of your emulator.
When you have finished obtaining the GPU plugin and the BIOS files, you can now run the ePSXe emulator by double-clicking on the epsxe.exe file. You will be prompted to use a Wizard. It is recommended that you at least make sure your settings are in order when going through the wizard. Very little configuration is really required. Just use a recommended BIOS file (the wizard will note which one is recommended). Select the Pete's GPU plugin that you've downloaded and do whatever other configuration you feel is necessary (I personally ensure that the emulator plays in windowed mode, but that's just personal preference.
When done, you'll eventually have a simple looking emulator screen that looks something like this:
If, for whatever reason, you need to run through the emulator setup wizard again, simply click on the "Config" drop-down menu and click on "Wizard Guide":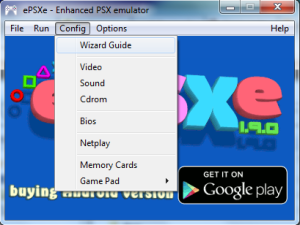 So, the next thing we need to do is configure the controller set-up. This option can be located by clicking on the "Config" drop-down menu, then hovering your mouse over "Game Pad", then "Port 1", then clicking on "Pad 1":
When you click on this, a pop-up window appears that looks like this:
To change any of the controls, you can simply click on the little grey boxes and typing in the new key on your keyboard. When you have finished configuring your digital controller, simply click on the OK button. We should note that controllers cannot be configured while a game is either running or paused. This is an unfortunate aspect of this emulator, but once you have a half decent set-up, this becomes less and less of an issue.
The next step is to find out where the video settings are located. These settings can be found in the "Config" drop-down menu and clicking on "Video":
This will likely load this pop-up window:
To configure your graphics plugin, click on the "Configure" button right underneath the drop-down menu that displays your plug-in name (note, the other "Configure" buttons points you to an additional set of options). For me, I got this window:
So far, the only thing I've toyed with is switching between full-screen mode and windowed mode. I prefer windowed mode so that I have fast access to other applications if need be. Full screen mode has the benefits of removing distractions and utilizing the full screen space of your monitor just for the game. Again, personal preferences. If you need to adjust these video settings for any particular game, that's how you access these settings.
Next, there is the traditional save state/load state feature. This can be located in the "Run" drop-down menu. For fast saving and loading, I prefer the speed-keys (F1 for save and F3 for load):
Before we load our first game, there is a few things we need to mention. For one, the game has to be in a very common disc image format. Formats that run fine are the ISO format or the CUE/BIN file. When opening an image, the emulator will tell you what format it can read. If it's in a CUE/BIN format, load the .cue file.
For another, when you run a game, it will hide the current window and open a new window just for the game itself. To get out of the game, you must hit "Esc" on your keyboard (typically the furthest top left key on your keyboard).
Additionally, the method I'm about to show you only really fully works for games that are in a single disc format. For a multi-disc format game, use this guide to run them. If you use this method on multi-disc games, you'll be unable to switch between discs in the game.
OK, cleared up? Cool. Click onto the "File" drop-down menu and click on "Run ISO":
In the pop-up browser window, browse to the CD image directory you created and put all of your image files into. Then, click on the game image of your choice and click on "Open". Your game will then start.
Important: When you are done playing the game, you must use the "Esc" button on your keyboard. When you want to exit your emulator, you must click on the "File" drop-down menu and click on "Exit":
Simply clicking on the "X" button may exit out of the emulator, but leaves the emulators process in your task manager running. This is a problem should you decide to run the ePSXe emulator again. The only way to kill the process otherwise is to either press "CTRL+Alt+Delete", opening up your task manager, clicking on the "Processes" tab, finding the ePSXe process and clicking on the "End Process" button or restarting your computer. The act of ending processes can be risky, so you have to use the "exit" feature in the emulator to make a clean exit.
While this is a great start for emulating PSX games, this will undoubtedly lead to further emulation questions. We will be covering more advanced topics in future guides, so stay tuned.
Happy gaming!
FAQ:
The CD image I got is in this weird ECM format, what do I do?
The file must be first decompressed. Follow this guide to do that.
Whenever I play a game that uses more than one disc, I can't seem to switch to the next disc in the emulator, what gives?
You'll need extra software to run multi-disc games. Use this guide to run these games properly.
The CD image contains different tracks and has a whole bunch of .ape files. Can the game still run properly?
Unlikely. You need to decompress and convert the .ape files (and possibly add a .cue file as well) before the game has a chance to run properly. Please use this guide to do this.
The CD Image simply has a .bin file. Can it still run properly?
Probably not. It may be playable, but it's possible that the game won't run as accurately. Try downloading the Cue's and SBI's file from here to get the missing .cue file for the game in question.
The copy I have of [insert title here] doesn't run properly. It simply starts off in black/hangs on a loading screen/crashes at [insert part of the game here]. I've looked up the compatibility list of this emulator and it says that it's 100% compatible! What am I doing wrong?
I found that the compatibility lists are a bit misleading. If you have your GPU settings (Pete's plugins) set to the "Nice" defaults and the game still doesn't work, you might need to either find another emulator or get a different rip of the game. 100% compatible, I found, simply means that someone somewhere has a copy of the game and managed to get it running through ePSXe. It doesn't necessarily mean your copy of the game will work properly (or even at all). If the game doesn't load when you load the .cue file, try loading the .bin file instead (if it's in that format. Sometimes, that works). You could spend hours using a search engine to troubleshoot the problem, or hours trying different plug-ins to get the game to work, but sometimes, it isn't worth killing yourself off trying to get it to work. Some games, even though someone got it to work, might not really work on this emulator after all. Sorry.